19 February 2013 | Palestinian Center for Human Rights, Besieged Gaza, Palestine
The Palestinian Center for Human Rights (PCHR) condemns the Israeli Navy's escalation of attacks against Palestinian fishermen in the Gaza Strip and expresses its deep concern for such escalation, which resulted in arresting two fishermen and confiscating their boat today.
According to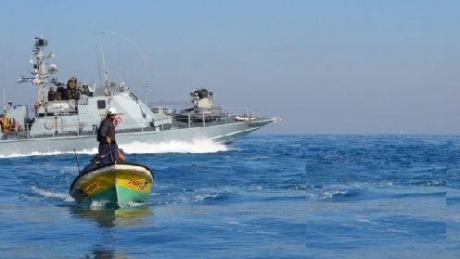 PCHR's investigations, at approximately 10:15 on Monday, 19 February 2013, an Israeli gunboat attacked a Palestinian fishing boat, boarding 2 fishermen, sailing 1 nautical miles off al-Sundaniya shore in the northern Gaza Strip. The Israeli soldiers fired directly at the boat, cordoned it and ordered the fishermen on board to take their clothes off, jump into the water and swim towards the gunboat. Two fishermen were arrested: Mohammed Shihda Khalil Sa'd Allah (60) and his son, Mahmoud (23), from Jabalya town in the north of the Gaza Strip. The Israeli forces confiscated their fishing boat as well. Immediately after capturing them, the Israeli forces handcuffed the fishermen, blindfolded them and transported them to Ashdod seaport. Both fishermen are still under arrest.